info & updates - concerts - recordings - music - books - video - gallery - links - home
---
The Musing Moon Mystery School is an invisible temple dedicated to the exploration,
practice, refinement and teaching of esoteric energy healing methods.
Anything is possible under the Musing Moon as there are no predetermined limits.
However currently offered work focuses on three main areas:
Sound Healing, Shamanism and Qi Cultivation.
---
"Rich Goodhart's shamanic sound medicine is an alchemical elixir impacting body, mind and spirit.
As an energy healer at Omega Institute I have experienced many healers in my journey, and Rich's ability
to tune in to you at all levels and remix the tones of a person's suffering back into the sublime
music original bliss is a testament to his skill as Master Wizard of Sound."
~ Brett Bevell, Reiki Master, Random House author
Faculty at Omega Institute, Kripalu and Alex Grey's Chapel of the Sacred Mirrors

"Your music and writing are integral elements of my practice. Everyone
deserves to experience your gifts for healing through sound!"
~ Deb Palmer George
Overlord of Inspiration, Palmer Solutions
---
DONATE/SUPPORT PAGE


---
Private Healing Services:
~ Shamanic Sound Healing Private Session, Approximately 60-75 minutes, $80
~ Himalayan Singing Bowl & Earth Gong Healing Sound Meditation, 30 minutes, $45
Workshops currently offered by the MMM School:
~ Natural Resonance: Communicating with Nature Through Sound/Voice (Description & Testimonials)
~ Three Pathways of Illumination: Sound, Shamanism and Qigong (For more info, including bio etc)
~ Shamanic Sound Healing Expansive ~ 3 Hour experience (For event description please view this link.)
~ SPIRIT-MIND MEDICINE: An Intro to Meditation
~ Immersions In The Stream Of Cosmic Sound™
~ The Transformative Powers of Sound: Explorations In Sound Healing
~ Getting High: Cultivating Subtle Energy Awareness through Breathwork, mudra, toning, chant and qi practices.
~ Qigong and Tai Chi
~ Hand Drumming: Rhythm Magic & the Art of Bending Time™
~ Shamanic Practices Immersion: Awakening to the Shaman's Attunement

Concert/Sound Medicine Event:
~ Shaman Mirror Medicine Tree: A Journey of Spirit & Healing through Sound (1.5 - 2 hours)
~ Shamanic Sound Medicine Expansive ~ 3 Hour experience (For event description please view this link.)
~ Sound Healing Attunement Meditations ( 80 - 90 minute event)


~~~ Client & Event Participant Testimonials ~~~



~~~ A note about my Sound Healing practice & events ~~~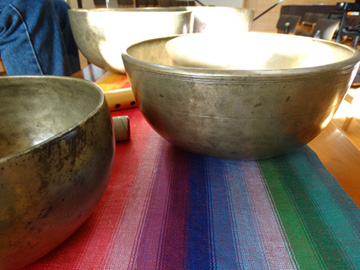 Articles & Essays (Wisdom from my Teachers):
~ Freeing The Voice Sounding The Soul by Saruah Benson
~ The Effects of Sound on Consciousness by Tom Kenyon
~ Sound as a Modulator of Consciousness by Tom Kenyon
~ Qigong Beginner's Mind: Renewed Moment to Moment by Kenneth Cohen
~ A=432: Truth, Lies and Creative Story Telling by Rich Goodhart, July 2015
~ Getting In Tune with the Schumann Resonances by Rich Goodhart, NEW Feb 2019

Words & Visions:
~ Introduction by Rich Goodhart (The Introduction from The Sound Inside The Sound)
~ Hidden By The Sun, R.G.
~ Do You Remember?, R.G.
~ Tanka V, Gardens Grow Gently, R.G.
~ Some Days, R.G.
~ The Truth of Your Magnificence, R.G.

~ In The Breath of Silence by Rich Goodhart (Chapter #5 from Shaman Mirror Medicine Tree)
~ Renewal (Sing to the Trees), R.G.
~ In A Garden of Light, R.G.
~ Seven Birds, R.G.
~ Light Occurring Vividly Everywhere, R.G.
~ AHUM PREMA, R.G. (Word/Sound/Vibrational Heart Attunement Activation Practice)



~ If you are interested in hosting Rich's Shamanic Sound Events, workshops or performances in the Northeast/New England area or beyond, please contact by email for more information: