Rich Goodhart music dousongoni berimbau sanza hand drums nativpercussion keyboards and more

info & updates - concerts - recordings - music - video - gallery - mystery school - links - home





NEW BOOK!! September 2013
"The Sound Inside The Sound"
~ Spirit Medicine for a Renewed Earth Consciousness ~

Arising from a presence rooted deeply in the sound and vision of the natural world,
the first part of this book offers forty-two Invocations of luminosity and healing vibration.
Earth words, conjurings of true-heart relation, bright expansions of spirit, wisdoms of
rhythm, rain and wind all permeate and dance throughout these writings.
The second part explores, through a trio of essays, the Energy Medicine of Sound and
Music and of sensitive listening to the great mystery of the life force ever flowing around
and within us. Together, they invite the awakening of spirit renewal.






***Three Invocations ~ LIVE: Concert Performance ~ May 14, 2014***

"The Sound Inside The Sound is deep witness and invitation to the immensity of soul, of spirit, of heart, soaring to the depths of our beginnings beyond time, to the in between, to the heights of all sacred unfolding. It is the blooming of a long awaited moon flower, filling the night with it's song. Thank you Rich." ~ Brenda Smits






"In true Bardic fashion Rich Goodhart brings tone to word, attuning us to the deep mystery's rhythms. Bridging mundane, natural and spiritual worlds, The Sound Inside the Sound invites us to bring our own breath and consciousness into vibrant harmony with all life."
~ Llyn Roberts, award winning author of Shapeshifting into Higher Consciousness and coauthor of Shamanic Reiki.
Llyn Roberts.com EarthWisdomCircle.org


"Rich Goodhart has created a modern spirituality expressed in sound, and now through word he is weaving connections to that spirituality to harmonize mind and spirit."
~ Keri Ford, artist and writer, Aotearoa (New Zealand)

"The Sound Inside The Sound is a quick read with lasting impression. Rich Goodhart's words, like a tuning fork, attune us to the mysterious forces at play in sound reminding us to listen ever deeper and to open ourselves ever wider to the healing gifts that await not only for our own inner healing, but ultimately for the healing of our relationship to all that is."
~ Dielle Ciesco, author of The Unknown Mother: A Magical Walk with the Goddess of Sound DielleCiesco.com

---


April 2011
"Shaman Mirror Medicine Tree"
~ Healing Visions of Earth, Heart, Spirit and Sound ~

In the beginning was the word, and the word was sound. In this collection
of inspirational poetry and prose, world music artist, sound healer and
shamanic practitioner Rich Goodhart brings the spirit, play and vibrant
essence of his creative sonic visions to the written word. The writings in
Shaman Mirror Medicine Tree are a celebration of heart, nature, love and
the sacred muse found through a life being lived with authenticity and deep
listening. They reveal affirmative visions of healing and gratitude for the
mystery and wonder of being.

This book is the second half of an adventurous larger project of
transformational attunements that includes a double CD of world rhythm
healing music journeys under the same name.

~ Reader Reviews ~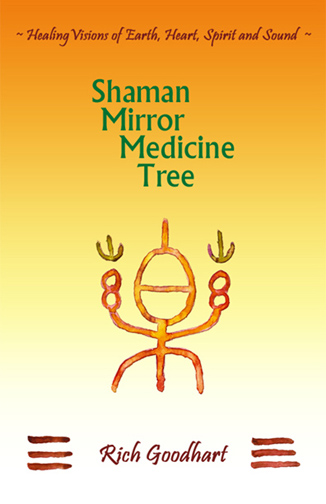 This is where the big dream is dreaming
This is where medicine tree music is sung
This is where the heart star is glowing
This is where the music is born


---
info & updates
- concerts - recordings - music - video -
gallery
- mystery school - links - home
Copyright 2000 - 2014 Rich Goodhart/Beginner's Mind Productions.
All rights reserved to Rich Goodhart and Octagonal Madness