---
Weekend Retreat at The NEST, Woodstock, NY,
September 17 - 19, 2021

~ Read Participant Responses from my 2019 Retreat!!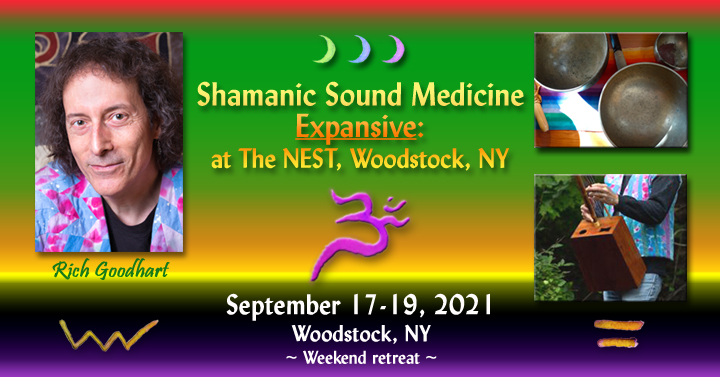 SHAMANIC SOUND MEDICINE EXPANSIVE:
Conspiring with the Healing Spirits of Sound

with Rich Goodhart

~ ~ ~ ~ ~
For registration, with housing options:
https://www.viewcy.com/e/nesting_richard_goodh
Or you can send by PayPal direct
(and choose the friends/family option to avoid the fees)
PayPal to: info@Eskff.com
Or send check to:
Eskff
41 Shotwell Rd
Woodstock, NY
12498
www.eskffnest.com

~ Tuition is $400 if registered in full up to August 20th, after the 20th it is $450.
Vegetarian meals included throughout,
from Friday dinner through Sunday lunch.
~ Housing and tenting are extra, all options listed at the registration link.
(Indoor accomodations are limited - register soon if you would like a bed!)
Eskffnest will send guidelines form to fill out before arrival.
***See below for COVID requirements.***

~ ~ ~ ~ ~
Retreat Expansive Description:
Use the profound efficacy of sound to deepen your healing and/or shamanic practices with Rich Goodhart.
Sound is a universal pathway to Source. Applying it consciously is one of the most powerful tools available to an energy healer. Shamanic Sound Healing is a potent form of energy medicine that can effectively transform our mind-body states, bringing new awareness and real healing attunement. The most significant sound healing instrument we have, our own voice, carries the vibrational essence of one's embodied truth, directly channels our emotional field, and can be a dynamic catalyst of personal evolution.

This transformational retreat is imbued with deep commitment to integrity and grounded wisdom as we engage sound's ability to inspire healing responses, expansion and renewal in all aspects of our being. We learn group and personal sound practices in complement with master practitioner Rich Goodhart's exquisitely multidimensional sound medicine immersions. Rich brings lifetimes of sound experience, along with his collection of exotic world instruments, to inspire the shamanic medicine journeys.

Great for those looking to deepen their sound practice, awaken and enhance their shamanic work – and anyone interested in self-healing.
~ ~ ~ ~ ~ ~ ~

Rich Goodhart is an internationally respected world music multi-instrumentalist, composer, recording artist, gifted shamanic sound healing practitioner, Qigong/Taiji teacher, author and Omega Institute Core Faculty instructor. His newest album of sound medicine meditations is titled Forest River Pathway. His second book of luminous invocations and sound healing essays is titled The Sound Inside The Sound.

Basic Schedule:
~ Dinner on Friday, roughly 6:00pm
~ Event begins Friday evening, approximately 7:30pm - 9:30pm
~ Event concludes Sunday, approximately noon, with casual lunch available after.

~ ~ ~ ~ ~ ~
****COVID requirements: Either your vaccine ID card, or negative test
results within the previous 72 hours.
(As of now, your choice on masking. Hopefully we won't need them again!)
---
For questions about the Sound Medicine Retreat experience,
.