Rich Goodhart music dousongoni berimbau sanza hand drums nativemnflute dica bouzouki dulcitar jaw harp percussion keyboards and more



info & updates - concerts - recordings - music - books - video - gallery - mystery school - links - home


Shaman Mirror Medicine Tree ~ 2 CD set
Back in stock!!!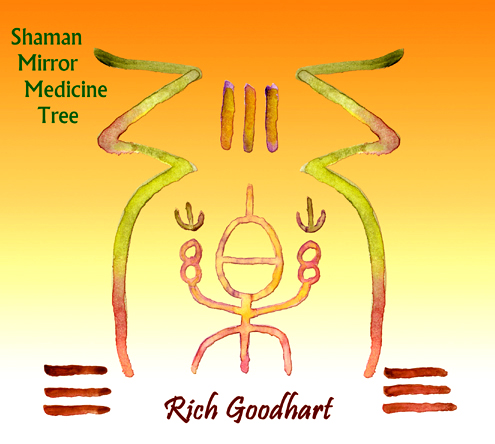 Full album digital download now available at Bandcamp
September 29th, 2019
Rich Goodhart's Sound Medicine music masterpiece, Shaman Mirror Medicine Tree, is now available again after several years of being out of print! (order below)

A few highlights:
~ It's 2 CDs and nearly 2 hours of music. Some rhythmically dynamic, some deeply meditative. Mostly instrumental, several pieces with chants.
~ JON ANDERSON visionary co-founder and mystic voice of YES, makes his first of two guest collaboration appearances on vocals on Rich's albums (Also on Forest River Pathway.)
~ DAEVID ALLEN of GONG, the late great cosmic wizard and Planet Gong seer appears again, on Rich's second album in a row, with glissando guitar magic on two tracks, including Entering the Circle, heard on the video below.
~ JIM BALLARD offers a dramatic tribal elder vocal chant transmission on Word from the Elders.
~ JOHN RAGUSA adds flute drum and vocals to a live rendition of Jon Anderson's Moon Ra.

~ This dynamic, multidimensional, expansively colorful, world rhythm sound medicine music is abundantly rich on multiple levels. No one else is creating albums quite like this.

Great thanks and appreciation to all past, present and future supporters of this work!!!



---

~ Testimonial quotes and Sound Medicine music video included below
~ Additional credits, album notes and reviews
~ Listen to mp3 samples from this CD (Several new ones added.)


---

$20, plus shipping. ($5 US, $12.75 Canada, $18 International)
Two ways to order:

1. ~ PayPal:

2. ~ Check or money order made out to 'Rich Goodhart' and sent to:
Rich Goodhart/Beginner's Mind, PO Box 744, Guilderland, NY 12084

---


Entering the Circle ~ Side 1, Track 1
from Shaman Mirror Medicine Tree
(***Use your HEADPHONES for best music immersion experience***)

Video filmed in southern Finland by
Kristiina Kankaanpaa




---
"
Shaman Mirror Medicine Tree
has amazing properties - it completely
relieves stress and centers my thoughts as I listen. Sound healing works,
I know that through this music."

~ Arthur Cooper,
PhD, Chemist and Buddhist Practitioner
---
"The music of Rich Goodhart transports me, especially while I am painting.
His music has layers, a depth of wisdom, and such rich "color"...just like my
painting experiences.
Rich Goodhart's music is a powerful portal we can all use
to tap inner knowings...a wisdom only accessed through the senses.
So grateful for his artistry and spirit."
~ Whitney Freya,
artist
WhitneyFreya.com
---
"Rich Goodhart's shamanic sound medicine is an alchemical elixir impacting body, mind and spirit.
As an energy healer at Omega Institute I have experienced many healers in my journey, and Rich's ability
to tune in to you at all levels and remix the tones of a person's suffering back into the sublime
music original bliss is a testament to his skill as Master Wizard of Sound."

~ Brett Bevell, Reiki Master, Random House author, Faculty at Omega Institute,
Kripalu and Alex Grey's Chapel of the Sacred Mirrors brettbevell.com
---
Cloud sweeping moonglow
Darkness has its own vision
So why do you run
When morning brightens your eyes?
Thank yourself for all you are

~ R.G., Tanka III
from The Sound Inside The Sound
info & updates - concerts - recordings - music - books - video - gallery - mystery school - links - home


---
~ Rich performs, offers Shamanic Sound events, teaches various workshops etc. If you're in the
Northeast/New England area or beyond, and are interested, please visit the Musing Moon Mystery School
page, then contact by email for more information:




Copyright 2022 Rich Goodhart/Beginner's Mind Productions.
All rights reserved
*****