---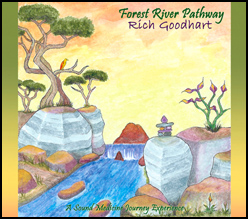 "Forest River Pathway"
**NEW!!**
Sept 2017 ~
Double CD set!!
Progressive world rhythm Shamanic Sound Medicine music!

Details here
, including audio samples & ordering.
With guest appearances by
Jon Anderson
of YES,
David Duhig
of Jade Warrior and
Athena Burke.
$20
PayPal: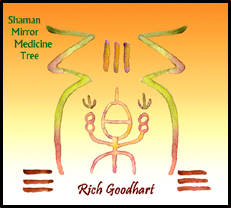 "
Shaman Mirror Medicine Tree
"
**BACK IN STOCK!! 9-22-2019**
2010 ~
Double CD set!!
A progressive world rhythm shamanic journey, with occasional soul affirmative chants & spirit cleansing healing sound meditations.
With guest appearances by
Daevid Allen
of GONG,
Jon Anderson
of YES,
Jim Ballard
& more.
$20
PayPal:
Listen to mp3 samples from this CD
"Rich Goodhart's world roots music is wild fire, inspiring the listener to
open wide the ears, heart and mind with his exquisite touch on percussion,
wind and strings, creating an ever-changing atmosphere of rhythm, mood,
melody, resonance, integrating heaven and earth and honoring all the
directions. You are in for a beautiful journey with his new album. Enjoy it!"
~ Chloe Goodchild, International singer, founder of The Naked Voice
"The music of Rich Goodhart transports me, especially while I am painting.
His music has layers, a depth of wisdom, and such rich "color"...just like my
painting experiences. Rich Goodhart's music is a powerful portal we can all use
to tap inner knowings...a wisdom only accessed through the senses.
So grateful for his artistry and spirit."
~ Whitney Freya, WhitneyFreya.com

"Shaman Mirror Medicine Tree has amazing properties - it completely
relieves stress and centers my thoughts as I listen. Sound healing works,
I know that through this music."
~ Arthur Cooper, PhD, Chemist and Buddhist Practitioner


Produced, arranged and recorded by Rich Goodhart
All instruments and vocals on all tracks performed by Rich Goodhart, with the addition
of guest performances by:

Daevid Allen ~ glissando guitars on "Entering the Circle" and "Weaving Luminous Strands".
Jon Anderson ~ all vocals and lyrics on "Good Love Coming".
Jim Ballard ~ all vocals on "Word from the Elders".
David Macejka ~ frame drum on "Between Earth and Sky" and "Earth Medicine Rhythm".
John Ragusa ~ flute, drum and vocals on "Moon Ra".
Kris Renta ~ vocals on "Moon Ra".
Raji Nevin ~ vocals on "Moon Ra".

RG ~ dousongoni, sanza, bouzouki, dulcitar, Native American flutes, melodica,
vocals, hand drums (frame drums, bendir, ashiko, djembe, doumbek, sogo, kidi, kanjira),
talking drums, antique Tibetan bowls, Filipino buzz sticks, jaw harp, berimbau, shakers,
tambourine, bells, hand claps, guiro, keyboards, drones.
---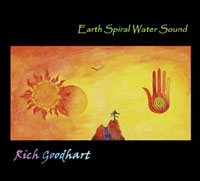 "Earth Spiral Water Sound"
2005
Progressive cross-cultural world rhythm invocations,
soul healing transportations, spirit heart chants and
songs of earth mystery musings.
$15
PayPal:
Listen to mp3 samples from this CD
RG - Dousongoni, dulcitar, sanza, African drums (djembe, sogo, kidi, ashiko),
talking drums, doumbek, frame drums, kanjira, clay pot, udu, bendir, bazouki,
melodica, jaw harps, keyboards, bamboo sticks, berimbau, conga, shakers,
tambourine, bells. Chant, chorus and lead vocals.

with guest artists:
Daevid Allen (of Gong) - Glissando guitars and Vocals
Joanne Shenandoah - Lead and Chant vocals on "It's Always There".
Steve Gorn - Bansuri Bamboo Flutes
Ray Jung - Bass
Brian Kolins - Wind Gong and Suspended Cymbal
Liana Turner - Vocals
Bar Scott - Vocals
Jim Ballard - Vocals
Kate McDonnell - Vocals
Alysun Panichi - Vocals
Amy Fradon - Vocals
Katy Taylor - Vocals
Earth Spiral Water Sound is Rich's most visionary, inspired and far reaching
production to date. With many special guest artists including Gong and Soft Machine
co-founder Daevid Allen, Grammy nominated Native American musician
Joanne Shenandoah and Bansuri Flute master Steve Gorn.
The instrumentation is heavily multi-ethnic acoustic with plenty of African and middle-Eastern
hand drumming, dousongoni, sanza, dulcitar, wordless vocal chants, and cosmic trance-portal
glissando guitar work and vocal improvisations from master musician Daevid Allen. Also with
eco-spiritual lyric vocals on several tunes, including Joanne Shenandoah's exquisite rendering
of "It's Always There".
"WOW!! As a Shamanic practitioner, transportative vessels such as this disc
I find to be few and far between. It is Masterful, and for anyone wishing to look
further than the end of their own head for glimpses of the rest of the Universe,
known and unknown, it has worked as well as anything I have ever used to
Journey with. My deepest compliments!"
~ Kevin Wilkinson, Visual/Energy Artist
"An effortless heartwarming musical journey" ~ PLANETGONG
"Well, it came, I listened, it conquered, captured, enveloped, convinced.
Truly, your best work.
Visionary...Transporting...Beautiful Musicianship from everyone!
Thank You, Rich, for Listening with a capital L and holding to
the Great Song, the Great Gift. Blessings."
~ Saruah Benson - Musician, Sound Healer, Spirit Guide
Dear Rich,
Yr CD is an absolutely beautiful piece of work. I enjoyed it immediately
& it keeps playing itself!! Thanks for including me.
Love, daevid
---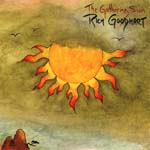 "The Gathering Sun"
1999
Progressive world beat art songs.
RG - Keyboards (piano, organ, synthesizer), African drums (sogo, kidi, djembe, ashiko),
berimbau, dousongoni, frame drums, acoustic guitars, jaw harps, talking drums, kanjira,
melodica, auto harp, log drum, clay pot, doumbek, shakers, hand claps, tambourine,
percussion, chant vocal.
CHARLOTTE PHARR - Lead and chant vocals
AMY FRADON - Lead and chant vocals
MITCH ELROD - Vocals, dobro
JOHN RAGUSA - Flutes, harmonica, vocals
CARL ADAMI - Bass
BRIAN KOLINS - Snare, bass drum
"Think percussive quicksilver. Think a rain of talking drums. Think melted sweet
butter poured through a piano during a performance of Terry Riley's In C. Then
stop thinking...and listen. Then stop listening...and feel. Mmmm. Yes. Nice. ...
deftly integrating subtle Third World rhythms into challenging yet fully realized
compositions. The Gathering Sun is ambitious fare, but Goodhart and his
collaborators rise to the challenge, creating an album that surprises every bit
as much as it delights." J. Eric Smith, METROLAND
The Gathering Sun is the most dynamically arranged and musically evolved of Rich's work.
Combines some of the best elements of world music, progressive rock and eco-spiritual poetry.
---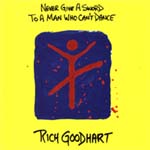 "Never Give A Sword To A Man Who Canít Dance"
1995
Progressive world beat instrumentals with wordless vocals.
Sold Out
RG - Dousn'goni, berimbau, African drums (sogo, kidi, ashiko), frame drums (tar, riq, bendir), sanza, keyboards, doumbek, talking drum, log drum, clay pot, percussion, conga, bamboo jaw harps, tabla.
AMY ABDOU - Vocals
MITCH ELROD - Vocals
STEVE GORN - Bansuri bamboo flute
JOHN RAGUSA - Flutes, trumpets, harmonica
THE SWIM TEAM SINGERS and THE GOODRICH CHOIR
"This is music with a true sense of adventure, with plenty of backbone and vibrant heart."
GLEN VELEZ


"Amazingly talented... his versatility and vision are rare. The ultimate soundtrack to
one's most private ritual dream." PJ Birosik, NAR


"An ecstatic listening experience." TIME AND A WORD


"The song development is gradual flowing and intentional. At a time when amateurs are
honing their production skills with experimental "worldly" product, this self-produced album
represents the forefront of hybrid song-building." RHYTHM MUSIC


"Stunningly subtle...brilliant." DIRTY LINEN


---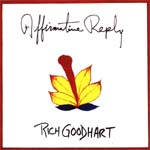 "Affirmative Reply"
1991
Progressive world beat instrumental.
RG - Sanza, keyboards, doumbek, berimbau, frame drums, talking drum, udu drum,
roto-toms, percussion, conga, bass, pan pipes.
STEVE GORN - Bansuri bamboo flutes
JOHN RAGUSA - Flute and trumpet on "Blue Bertolli"
RAY JUNG - Bass and Chapman stick on "Blue Bertolli"
"Anyone familiar with his fine first album, Divining Signs, needs no introduction to the
exotic, richly textured web Goodhart weaves with his panoply of ethnic instruments.
On Reply, he delves more deeply into the organic language of his drums and
percussion, and the resulting rhythmic conversations are both warm and
primitively, provocatively mysterious." METROLAND


"Built around the rich watery tones of the sanza, ...a fluid field of sound that draws on
many ethnic traditions while recasting them in a contemporary light." HEARTBEATS


"Goodhart shows a real mastery of the music." OPTION


"A sumptuous feast of polyrhythms and subtle atmospheric twists of melody and
counter-melody." METROLAND


***Ranked in Musical Starstreams Top 20 Albums of 1991 along with Mickey Hart's
"Planet Drum", Dead Can Dance, Enigma and Ottmar Liebert.

---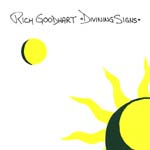 "Divining Signs"
1989
World beat instrumental w/ New Age leanings.

RG - Sanza, tabla, synthesizer, piano, berimbau, udu drum, frame drum,
acoustic guitar, percussion, roto-toms.
JOHN RAGUSA - Flutes
STEVEN KRASKOW - Bass on "What Do Your Eyes See?"
TIM DINOVO - Drums on " Won't You Join The Dance?"
"Southeast Asian, Brazilian, Indian and African rhythms come and go, as do some
lovely flute improvisations by John Ragusa. New Age drivel this ain't." OPTION


"Atmospheric but rhythmically complex. The human element missing from so much
of today's music is clearly in evidence here." METROLAND


"Often sounds like the beautifully eclectic Codona projects that featured Goodhart's
late teacher, Oregon percussionist Collin Walcott." THE GAZETTE
---
Warning
: Computer programmed, sampled performances are not a part of the music on these records. All parts were played by hand.
Back to CD ordering page