Rich Goodhart music dousongoni berimbau sanza hand drums nativemnflute dica bouzouki dulcitar jaw harp percussion keyboards and more



info & updates - concerts - recordings - music - books - video - gallery - mystery school - links - home


NEW 2 CD Album: "Forest River Pathway" - September 2017!!!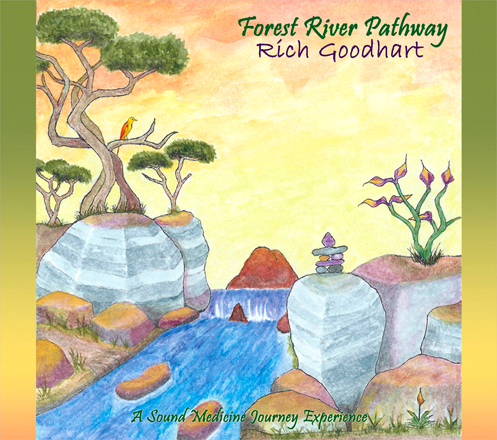 September 29th, 2017
"Forest River Pathway" is now officially released..... $20 plus shipping (order below)

Hello Friends, Supporters and Believers in my Sound Medicine Music!

The new 2 CD set of Sound Medicine music journeys and meditations is now available for worldwide order!!

A few highlights:
~ It's 2 CDs and nearly 2 hours of music. Some rhythmically dynamic, some deeply meditative.
~ JON ANDERSON of YES makes a wonderfully magical guest collaboration appearance on vocals.
~ DAVID DUHIG of Jade Warrior fame makes a joyously ecstatic guest collaboration appearance on guitars.
~ ATHENA BURKE lends her beautiful voice chant and lead vocals to two pieces.
~ I've been blessed and gifted with these new realms of sound and light discovered - no one else is doing albums like this. The music is truly rich in more ways than one!!
~ Great thanks and appreciation to all supporters of this work!!!

Peace & high vibrations!!
Rich


---

****AUDIO SAMPLES****
At the following link you will find a 3:30sec sampling of excerpts from 6 of the 17 pieces.
This is but a taste of the multiple dimensions in sound that have been uncovered!
(More samples coming eventually.....)
NEW ALBUM SAMPLER

Plus these individual 2 minute excerpts:
1. Stone Water Medicine Wheel (Side 1, Track 7, with Athena Burke)
2. Crossing the Spirit Bridge (Side 1, Track 4)
3. Gate of the Sun (Side 2, Track 1, featuring the Cosmi-Sonic Trance Banjo)
4. Where Paths of Power Meet (Side 1, Track 5)
5. Spirit Shadows (Side 2, Track 2)

And...
The complete Spirit Grounding video, featuring Jon Anderson on vocals.)


---

$20, plus shipping. ($5 US, $12.75 Canada, $15 International)
Two ways to order:

1. ~ PayPal:

2. ~ Check or money order made out to 'Rich Goodhart' and sent to:
Rich Goodhart/Beginner's Mind, PO Box 744, Guilderland, NY 12084


In concert with Athena Burke






Cosmi-Sonic Trance Banjo, September 15th, 2015
(***Use your HEADPHONES for best experience full spectrum effect***)

Transmission #3, Pelog Scale/Major Key Meditation




---
"Rich Goodhart has created a modern spirituality expressed in sound, and now through word he is
weaving connections to that spirituality to harmonize mind and spirit."
~
Keri Ford
, artist and writer, Aotearoa (New Zealand)
---
"Rich Goodhart's shamanic sound medicine is an alchemical elixir impacting body, mind and spirit.
As an energy healer at Omega Institute I have experienced many healers in my journey, and Rich's ability
to tune in to you at all levels and remix the tones of a person's suffering back into the sublime
music original bliss is a testament to his skill as Master Wizard of Sound."

~ Brett Bevell, Reiki Master, Random House author, Faculty at Omega Institute,
Kripalu and Alex Grey's Chapel of the Sacred Mirrors brettbevell.com
---
Water finds its way
From cloud to river to sea
Like soul's wandering
There is joy in this journey
And stones are what make it sing

~ R.G., Tanka VI
from The Sound Inside The Sound
info & updates - concerts - recordings - music - books - video - gallery - mystery school - links - home


---
~ Rich performs, offers Shamanic Sound events, teaches various workshops etc. If you're in the
Northeast/New England area or beyond, and are interested, please visit the Musing Moon Mystery School
page, then contact by email for more information:




Copyright 2017 Rich Goodhart/Beginner's Mind Productions.
All rights reserved
***All text, sounds, logos and images on this site are copyrighted by Rich Goodhart, unless other authors are indicated,
and are not available for commercial or public usage without prior expressed written consent.