Rich Goodhart is an internationally recognized and respected world music multi-instrumentalist, composer and recording artist working with world music in non-traditional forms, as well as a Master Shamanic Sound Healing practitioner, poet, writer, instrument builder and Qigong/Tai Chi instructor. He has composed, produced, arranged and engineered eight albums of progressive World Music, and is the author of two books including The Sound Inside The Sound.

His latest CD of world rhythm shamanic journeys and healing sound meditations is titled Forest River Pathway, and his third recording, Never Give A Sword To A Man Who Can't Dance was hailed as "The ultimate soundtrack to one's most private ritual dream" by New Age Retailer magazine. World percussion master Glen Velez has described his music as having "a true sense of adventure, with plenty of backbone and vibrant heart". Originally a keyboardist, for the past 35 years he has also been a hand drummer and World music multi-instrumentalist, and has studied with master musicians of Africa, India, America and Indonesia.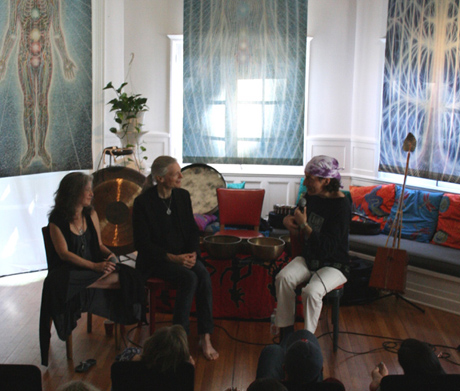 He has performed and collaborated with many highly regarded musicians, dancers and writers, including Allen Ginsberg, Jon Anderson of YES, Daevid Allen of GONG, Collin Walcott, Deepak Chopra, Joanne Shenandoah, Bill T. Jones, Nawang Khechog, Steve Gorn, Omar Faruk Tekbilek, Paul Horn, John Bergamo, Mark Nauseef, Gilli Smyth, Michael Harrison, Russill Paul, John Perkins, Zola Dubnikova, Lanny Harrison-Walcott, Athena Burke, Amy Fradon, Krishna Das, John Ragusa, Shahram Shiva and David Newman (Durga Das).
with Allyson & Alex Grey, at CoSM

Rich is likely to be found performing on dousongoni, sanza, bouzouki, dulcitar, Cosmi-Sonic Trance Banjo, berimbau, African and Middle Eastern hand drums, Native American flute, melodica, jaw harp, Himalayan bowls, gong and voice.

His Sound Healing studies include extensive work and a ten year close personal association with Divine Healing Sound Master Saruah Benson, intensive training with sound master Tom Kenyon, additional studies with Russill Paul, Dabadi Thaayrohyadi, Chloe Goodchild, Fiona Whitmore, and professional associations, studies and collaborations with Mitch Nur, John Beaulieu, Don Campbell, James Ballard, Zacciah Blackburn, Mother Nature, the Divine Sound Current, Elder Trees, and many others.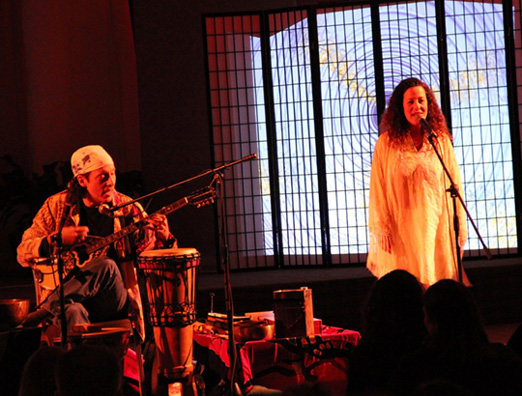 In concert with Athena Burke


In addition, he is a Qigong and Tai Chi practitioner and instructor and has extensive experience with meditation, yoga and esoteric shamanic practices - studying with Malidoma Some', Ken Cohen, John Perkins, Llyn Roberts, Zi Sheng Wang and many others. For over 20 years he has been a regular teacher on the Omega Institute staff faculty and has also taught at the Kripalu Center in Lenox, MA, as well as assistant teaching at Rowe Conference Center. From 2006 through 2018 Rich has been a Core Faculty Tai Chi/Qigong Instructor at the Omega Institute as well as leading Shamanic Sound Medicine and Transformational Sound and Energy events and workshops at Omega and many other locations. In 2008 and 2009 he presented the "Immersions In The Stream Of Cosmic Sound" workshop at Omega as an extended course meeting twice weekly for four weeks totaling 24 hours of class time. In 2010 through 2015 he presented "Shamanic Sound Practices Immersion" and "Three Pathways of Illumination" in the same format.